---
---
Now in its 28th year of publication, the Slingshot Organizer is a must-have for punks, radicals, free thinkers, and the young at heart!
This is the large-size version: it is bound with a super tough tough plasticoil binding and is twice the size of the "classic" pocket organizer (5.5 inches X 8.5 inches) with twice as much space to write all the events in your life. It is 176 pages featuring radical dates for every day of the year, space to write your phone numbers, a contact list of radical groups around the globe, menstrual calendar, info on police repression, extra note pages, plus much more. You get a little bonus stuff in the spiral version. The spiral version is available in 13 colors printed with either black or silver ink (depending on how dark the paper stock is). The covers are laminated with heavy duty 3 mil glossy plastic to help it survive the year.

See the pocket-size (4.25" x 5.5") here.
Guide to Slingshot colours
The Slingshot Organizer comes in all kinds of colours. They are given cute names. It is not always obvious to us what these names designate, and so far as we know there is no online source to provide guidance. So we just go with what makes sense to us -- here is a list of the colours followed by a photo; the colours correspond to the colours in the photo, from left to right and from top to bottom:


Black Lives Matter (silver ink)
Bourgeois blues (dark blue with silver ink)
Stone Butch Blue
Aqua is life!
Teleology
Grassroots

Food Not Lawns
Don't pee in the drinking water (bright yellow)
Orange you glad this isn't an iphone
Red Emma
Pink Triangle
Purple House
Beet poet (silver ink)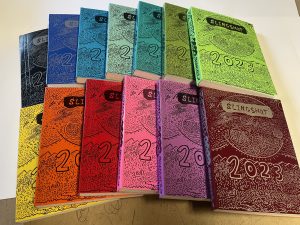 ---